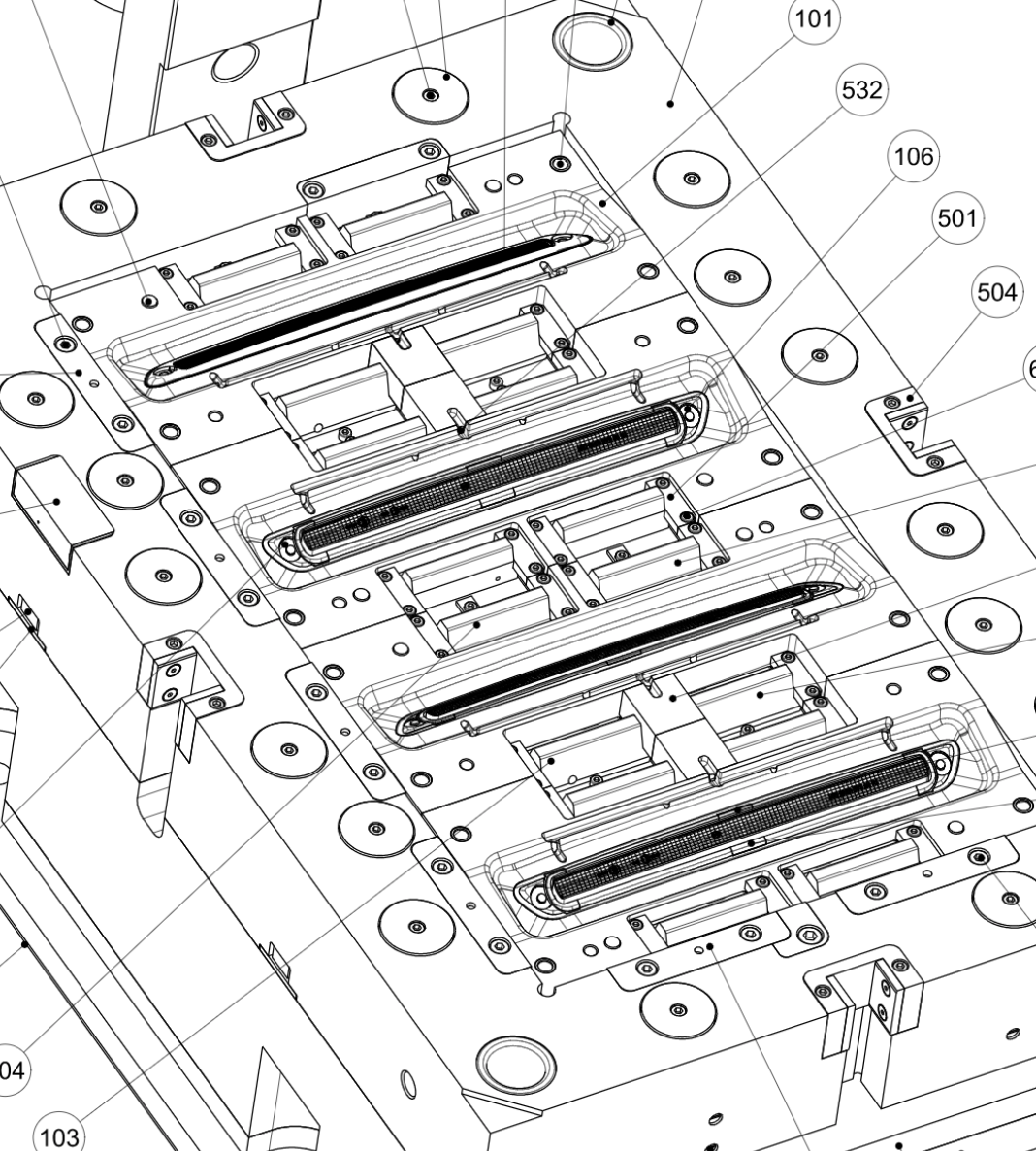 When designing components, our engineers work closely together with the client to optimize the design and finish of each product. Our job is to ensure each component matches the required parameters in both function and style.
When designing assemblies, we merge individual components where possible, without changing their functionality, to significantly reduce cost.
We determine the optimal material for each product and replace, where possible, metal alloys with aluminium thermoplastics. We verify rheological and other aspects of the design through FEM analysis and reverse-optimize the original design.
We provide the quick production of prototype tools through EOSINT sintering technology and through prototype moulds made from aluminium, made with direct 3D printing.
We manufacture all our moulds for metal and plastic components in our own machine shop – 1st Prešov Machine Shop S.R.O, using more than 70 years of expertise in the field of mould and tool production.
As the first capable company in the region, we have been producing moulds with a mirror finish since 1999. These can be used, for example, in the production of automotive headlamp optics or highly polished surfaces for household appliances. Starting in 2004, we were the first in the region to launch multi-component injection moulding, "2K" and "3K".
Our machine shop is equipped with modern CNC 3 and 5-axis machining centres and advanced EDM technology. We also utilize an EOSINT M 280 3D metal printer in our tool shop, which enables the production of unique and complex metal parts via laser sintering. Sintering is a process of heating metal powder to meld it into solid steel, one layer at a time.
We use advanced CAD / CAM software: Catia, Pro/e and FEM analysis. Our technological equipment enables the production of moulds and jigs with a ground plan of 1 x 1.4 meters and a weight up to 10,000 kg.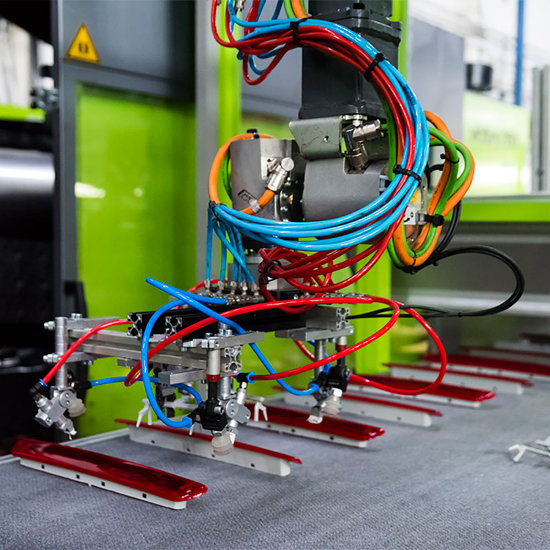 Mould Making and Blow Moulding
The production of plastic moulds is the core business of our company. We use injection moulding machines with a clamping force of 5 to 1,100 tons to produce components of different shapes and sizes. The machinery in our production facilities also allows us to produce multi-component parts using 2K and 3K technologies and mirror finished parts. Other methods of manufacturing technology we use include:

vertical and horizontal injection and moulding,
blow moulding,
reverse scanning, evaluation, and archiving of important parameters of the production process,
the application of 5-axis robots in the production cycle,
automated optical-laser control for final production,
and quality control by means of precise measurements of the product, generating data used to produce a unique identification number.
In order to offer more options for our products, we also provide:

Coating – a vacuum vapour treatment with aluminium. Currently, we have two production lines in operation for this treatment:
"Hot Stamping" by the f.KURZ machine.
We weld components using various technologies (eg ultrasonic and vibration).
We implement assembly kits and sub-assemblies containing both moulded plastic parts and components from various technical materials such as metals, urethane foams, foils, magnets and others used in the finalization of production.
In Cooperation with our Partner/s:

Electroplating of products.
Lacquering Plastic Components.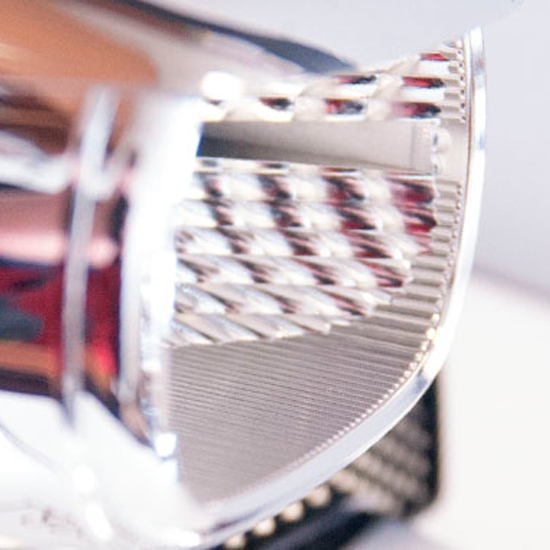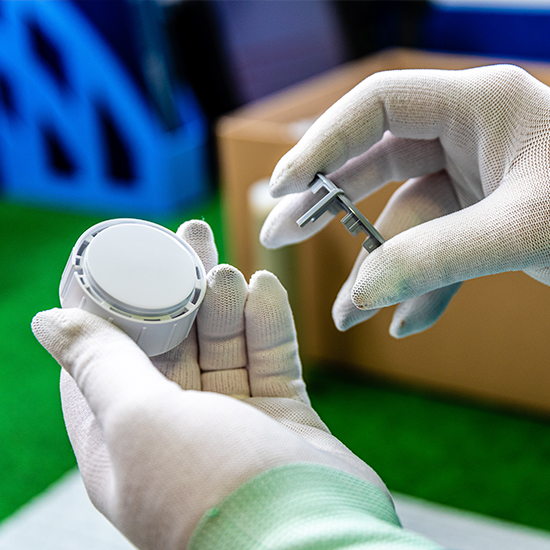 In addition to the production of individual components, we also focus on assembling them into kits and subassemblies at our own manufacturing facilities. We join plastic components together with metal, rubber, PUR materials, magnetic materials and so on. When assembling these kits, we strictly follow the customer's requirements, combining traditional and modern assembly methods, including ultrasonic welding.
The production and machining of all our metal components is carried out at our 1st Prešov Machine Shop, a part of our LPH group of companies. It uses the following technologies and processes for the mass production of components:

Wire bending through the modular CNC line. It enables bending of 2D and 3D planar parts directly from the coil, for wires

diameter 2 – 8 mm (AMF-3D8-T),
diameter 3 – 11 mm (AMF-3D12-T).

Tube bending by CNC line has the following parameters:

maximum bending tube diameter: Ø 50x3mm,
minimum bending tube diameter: Ø 6x1mm,
maximum bending angle: 190°.

Our 1st Prešov Machine Shop (1.PN) is also engaged in the production of sheet metal stamping using shearing and transfer press machines on eccentric and hydraulic presses with a tonnage of up to 400 tons.